The chapel, as the little church is a church that puts the believer to spirituality, faith, humility and reflection on the values ​​of life.
We give you the chance to own a comfortable best portable chapels suitable for placing any favorite and special place.
---
Sophianos Kontardas
Back in 1989 I started working as a restorer at Mount Athos. That to me was the period of the spiritual quest, intellectual ferment and development.   So with the blessing of God and the guidance of enlightened masters, began to gain experience and knowledge. All of what I have learned over the years became my profession, helped and become a major profession for me and my family.   Knowledge accumulated over many years, led me to the decision to implement large-scale projects such as the construction of new churches and monasteries. Management of traditional foundry for the production of solid brass, working bronze crosses, bells, candlesticks and more. Since 2004, "Naodomiki" transform all this experience and started in parallel with the construction of completed prefabricated chapels. In recent years, more and more Orthodox tourists increased demand and need for the chapel in resorts and hotels. Not only from their primary function and purpose, they adorn any space giving hallmark area with Orthodox faith.   Growing demand, together with the experience of "Naodomiki" gives incentive to strive for continuous development, to stick with the new technology in materials and construction. This enables us to continuously develop our projects.   Our name is build on the good word and the recommendation of clients. Our market position and strong name is top of our primary concern to make your customers happy.  
We will be happy to meet you soon.
HERON CONSULT partner of "NAODOMIKI" LTD-most renowned and established time manufacturer of portable chapels. For twenty years she has specialized entirely in church construction and design.
The company has demonstrated professionalism and quality of their work in Europe 
---
Cross / proskinitarii
They dedicate themselves to thank the saint chosen by the donor or his family. Available in private property, public land without prior approval. Its space is often enough to take one to three worshipers. Beside the fence wall or in the churchyard, it is usually open and enables the faithful to prayer at any time when the church was closed.
1) Dimensions: 2,00 χ 2,30 ;   2) Dimensions: 2,70 χ 3,10 ;  3) Dimensions: 3,60 χ 4,30
Omega Ω
This is a chapel with a narthex, whose roof is fully described and oval letter omega (Ω). Inside can be painted with exquisite frescoes. Equal walls allow placing the beautiful side windows.
Dimensions : 2,00 χ 2,90;  Dimensions : 2,70 χ 3,90;  Dimensions :  3,60 χ 5,30
Royal ∧
Overall appearance and radiation similar to a traditional chapel, which is more often out of town.
Chapel of this type is suitable for remote locations, roadside areas, areas rarely visited and did not require lavish and detailed elements. The roof and the narthex are pitched. The shape of the bell is consistent with the sharp roof.
\
Dimensions : 1,90 χ 3,60; Dimensions : 2,70 χ 5,40; Dimensions : 3,60 χ 6,30
Cross with a narthex
Chapel with a narthex (narthex) is typical of the architecture of Orthodox temples. The narthex is the natural end of the building and its columns gives the impression of dignity. Often used by the priest for delivering services to many temple. The roof is arched and inside can be painted with exquisite frescoes.
1) Dimensions : 2,00 χ 2,90 ; 2) Dimensions : 2,70 χ 3,90 ;  3) Dimensions : 3,60 χ 5,30
Cross-large with a narthex and dome
The rich architectural and constructive experience of NAODOMIKI contributes to the creation of infinite variety of models of this type. Putting all elements of church architecture allows the creation of opulent and completely finished Orthodox church. With designers from NAODOMIKI willing would have unlimited possibilities for size and overall vision.
Here dome, narthex, oval elements belfry windows may be in a different combination.
Models with large size of the ship and the narthex are suitable for public use.
1)Dimensions : 2,40 χ 4,60;  2) Dimensions : 3,60 χ 6,10;  3) Dimensions : 4,40 χ 7,70 
2) Dimensions : 3,40 χ 5,50 ; 2) Dimensions : 4,60 χ 7,70 ; 3) Dimensions : 5,80 χ 9,10 
3) Dimensions : 3,40 χ 6,50 ;  2) Dimensions : 4,60 χ 6,70 ; 3) Dimensions : 5,80 χ 10,10
Mediterranean
Chapel by the sea has always had a different spirit and appearance. Naval Architecture undoubtedly have an impact on the appearance of the Orthodox churches. This type chapels are distributed mainly in the island of Greece, but many architects recognize them in our conditions. Combined with bright buildings or placed on the higher rocks or places they are appropriate emphasis in contrast with the blue sea.
Dimensions : 2 ,10 χ 2,80; Dimensions : 2,60 χ 3,60; Dimensions : 3,20 χ 4,90
Dimensions : 3,40 χ 5,50; Dimensions : 4,60 χ 7,70;  Dimensions : 5,80 χ 9,10
Pavilion
"Place of solitude and contemplation"
Alcoves of this type are suitable for private or public places. Often placed in church yards. Gazebo can be the focus in the whole space. Fine forms are the best decoration and can change the whole look of the garden or the park. Gazebos have incredible acoustics and is used for instrumental performances, choirs, lectures and more.
1) Dimensions : 3,00 χ 3,00; 
2) Dimensions : 4,20 χ 4,20;
3) Dimensions : 5,50 χ 5,50 
---
Each element of the exterior and interior is made as desired.
After selecting from the huge variety, the chapel becomes your unique in its kind.
With our help you can choose from the variety:
Interior design

Fine paintings

Handmade wooden iconostasis, thrones, bases and others.

Emblems on the marble floor, bronze or mosaic

Massive bronze candlesticks, chandeliers, lamps and more.

Integrated system of floor heating, audio, ventilation, air conditioning and more.

exterior

Hand carved freestone

Thick decorative brick

Variants of the woodwork and windows

Colored glass church

Massive bronze bells, crosses, captions and more.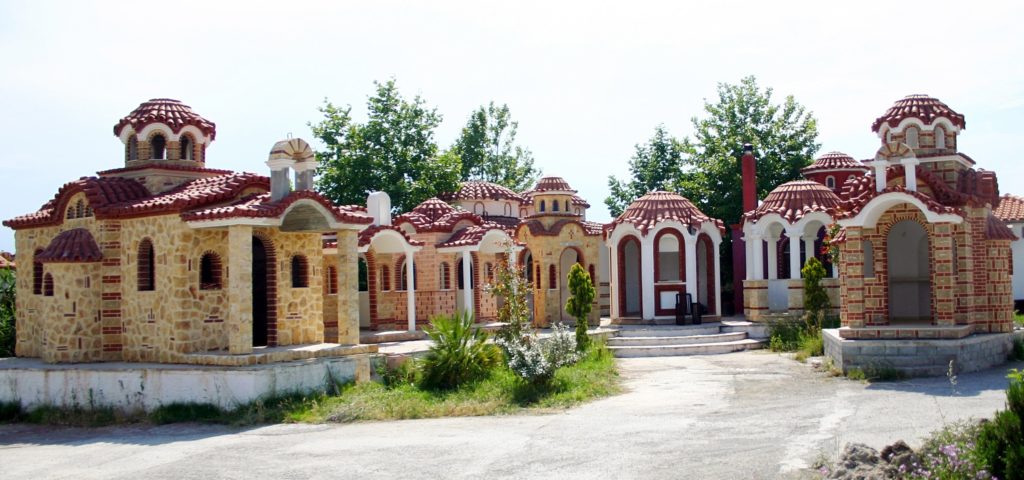 ---
FREQUENTLY ASKED QUESTIONS
What material are made chapels?
All chapels are made of reinforced concrete, meets all standards for strength and durability. Over the entire surface is applied to a specific layer, into which a suitable insulation, sealing materials and resins. Through high-quality materials and uncompromising control achieves maximum strength and protection of frescoes from moisture.
Can I choose the size, design, configuration, color stone interior of portable chapels and churches?
You do not agree with standard sizes and designs, as long as it does not contradict the main Orthodox construction and architecture. "NAODOMIKI" complies with all your wishes and preferences. Your individual preferences of color external cladding stones, type and material of the door and windows, the type of murals bell iconostasis, candlesticks, etc., Make your unique chapel.
ONLY FOR YOU!
How to choose a suitable model?
You have to answer the following questions:
– Where will you use?
For example: Family property (yard), Private complex (residential, commercial); Public (village, town, schools, hospitals, parks) and others.
How many people would be present at the occasion?
For example: Inside the temple: 5-10 people; in the narthex: 3-5 persons, before the temple: 10, 20, 100 people.
With our help, you can choose the model that best meets exactly your desires and needs.
What is included in the price of the chapel?
Also included is all made of the chapel, standard electrical and ventilation system in the apse frescoes, marble or stone floors, wooden frames with colored glass church, a massive bronze cross and bell.
How many days can I have a chapel in my place?
It certainly depends on many parameters as the type and size of construction, and the uncertain weather conditions that would affect the delivery time. Typically require lead time from 10 to 40 working days for production finished. Of course, if you decide to choose from available ready in our company.
What is the practical value of the placement of the Orthodox Church?
The architecture of the Orthodox church and chapel with its adjoining space adorns each place.
Functionality, especially in the field of hospitality is unmistakable. This is with a view to the comfort of the large number of Orthodox tourists from Russia, Greece, Romania, Serbia and others.
Weddings and baptisms for Bulgarians will be every weekend.
Comfort from the fact that without any construction can for short periods to have a structure.
Even if you change your favorite place in the future, you can take the chapel with her.
---
Transport Chapels
Each of us made portable chapel, can go to the designated place.
In a preliminary conversation should, indicate the desired location. An important factor is the individual road restrictions, which is a concern of transport companies. Also specify the conditions and opportunities for placement through a specialized crane.
We work with companies fit for purpose.
After specifying the end point, in customer service, judge constructive who would be the most advantageous option. Prepare appropriate scenarios. Insurance and transportation crane is required.
Chapels and large churches "NAODOMIKI" are supplied in Greece and Crete, Cyprus, Bulgaria, Romania, Hungary, Russia, Western Europe.
CONTAKTS 
Representation in Bulgaria – Ortodox Construtions
Sofia Downtown.
Tel: (00 359) 89 999 88 54/02 987 69 62
Headquarters and production:
Thessaloniki, 15th km. on the road Thessaloniki-Halkidiki
The key: the highway to Halkidiki and "Macedonia" airport, 3 km. after the exit to the airport is delayed. Immediately before the first small bridge on the highway to turn right into a small detour in unregulated local roadway. After 200 meters you will see impressive chapels of "NAODOMIKI". If you miss the turnoff to the next bridge looking side lane in the opposite direction.
Tel: (00 30) 6972 900 900 (00 30) 6981 448 044
---

[totop] to Top [/totop]